The KDA in Photos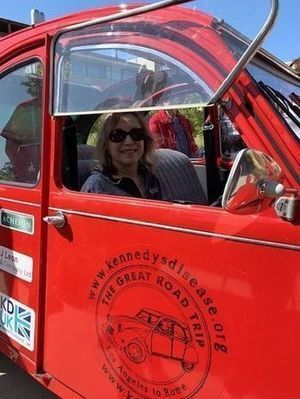 Memories. The KDA has had many over the years. Conferences, Fund Raisers, Road Trips, and Golf Scrambles have been held to bring people affected by the disease together for education, support and to raise money to find a cure for Kennedy's Disease. The KDA began in 1999 after Susanne and Terry Waite and Patrick Griffin met for the first time at a Families of Spinal Muscular Atrophy Conference.  At that time, there was no organization supporting Kennedy's Disease. Since then, the KDA has grown its membership with members living all over the world. Below are photos from recent KDA events.
Sections
Fund Raisers
11th Annual KD Golf Scramble – April 22, 2023
The 11th annual KD Golf Scramble was held on April 22 with great success. It was fun for all and the scramble raised a yearly high donation amount of around $43 thousand dollars to help find a cure for Kennedy's disease. Over the past 11 years.  The KD Golf Scramble has  raised over $343,000 dollars for research to find a cure for Kennedy's Disease. This is an achievement our committee couldn't be more proud of, but we are well aware this couldn't have been accomplished without our supporters.  We are dedicated to making your experience with our tournament fulfilling and fun, because we know that without you, this would be just another round of golf! Our past success propels us forward and we have set another lofty goal for this event.  So please join us in our DRIVE TO $350K!  The goal of our 11th annual tournament is to not only provide much-needed funds to help find a cure for Kennedy's Disease, but also to raise awareness of the disease and give HOPE to anyone affected by it that we WILL find a cure. To learn more about the KD Golf Scramble, click here.
11th Annual KD Golf Scramble – April 22, 2023
---
The Great Road Trip
The Great Road Trip was held in 2022. The little red 2CV car used in the trip traveled close to 7,000 miles, visiting 18 cities in the United States as well as Toronto, Canada, Poundbury and London in the United Kingdom, and Milan and Rome in Italy. The 2CV's stops in Buffalo and Philadelphia made the local TV news, and the Great Road Trip was the subject of several newspaper articles in Milan, where we were greeted by an official of the Milan City Council. Thanks to generous sponsors and donors throughout the trip, we met our financial goals. After expenses, the Great Road Trip raised over $100,000 for research into this devastating disease.
To see more photos and videos of this event, go to The Great Road Trip site by clicking here.
---
Research
National Institute of Health (NIH) Visit - April 2023
Some members of the KDA board visited the NIH. They spent the day touring the facility while visiting with Doctors, Researchers, Nurses and Therapists. They were able to meet with Dr. Fischbeck, Dr. Grunseich, Dr. Al Qahtani and Nurse Angela Kokkinis all who have been very active over the years in trying to find a cure for Kennedy's Disease. Board Member Dale Traxler took the opportunity to get an exam. Photos of the visit are below.
---
Research Labs
The KDA continues to work closely with researchers to find a cure for Kennedy's Disease. Below are a few photos from researchers lab's who have received research grants from the KDA to research a cure for Kennedy's Disease.