You are not alone in your quest for a treatment and cure!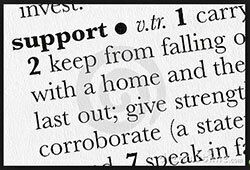 Because Kennedy's Disease (KD) is a rare disorder, information and specific KD resources are not readily available through local or regional organizations. The Kennedy's Disease Association (KDA) provides a support system expressly designed for those living with Kennedy's Disease, including caregivers, spouses, significant others and families.
Our support system includes a KDA Worldwide Contact list that provides a list of worldwide contacts who have volunteered to help others living with Kennedy's Disease. Find out who is located close to you and get in touch. Please Contact the KDA for a list of members in your area. Please include your country and state.  
You should never have to feel alone with our Support Network of friends who are ready and willing to help. We all have gone through stressful emotional issues with KD and it really helps to talk to people who have been through what you are experiencing. Our KDA Forum forum provides an opportunity to ask questions, share information, and build relationships.  You will need to register for the forum to ask or respond to questions.