Susanne Waite - CA, USA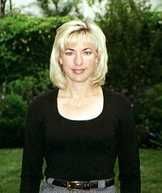 Terry Waite and I have been married for over 20 years.  I was 20 when we married (he was 28).  We loved to hike, bike, rollerblade, jetski, play softball, bowl, walk the shopping malls, just to go... go... go...  We were very athletic back then.  

About 14 years ago, Terry did not want to do a lot of the other things that we used to do.  I thought he was being lazy, getting out of shape or just did not want to hang out with the friends we shared these activities with.  I was getting frustrated with Terry and did not know the true reason why he did not want to do anything... Until he received his first misdiagnosis of Glycogen Storage Deficit (GSD).  At that point, we did research to learn about GSD and were hopeful that a high protein diet would help alleviate some of the muscle atrophy.  But Terry's symptoms did not match up perfectly, so we kept researching and asking his doctors to look into this further.

After a muscle biopsy, UCLA gave Terry a diagnosis of SMA Type III.  This was disappointing as SMA III has no cure or any type of treatment.  Terry was told not to exercise - as the more he exercised the more his muscles would waste and he could not rebuild them.  (Terry was 35 years old, and I was 27).  I did not know how to deal with this at first.  This came as a total surprise to us as noone in Terry's family had any symptoms or knowledge of a family history of SMA. The doctors' lack of information really left us at a loss and made us feel so alone.  At first I denied anything was really happening.  I carried on, diving into my work and ignored the diagnosis.  (At the time, Terry was still walking fine.)  About 5 weeks later, I broke down.  No matter what I tried to do, I could not stop crying.  I cried on and off for a full week.  I now realize that I was grieving for all the things we were losing or going to lose in the future.  I had denied, then became angry, then grieved, then accepted the diagnosis.

Eventually, after Terry researched SMA III, he again determined he had an incorrect diagnosis based on some additional symptoms he had and went back again to the neurologist.  The neurologist told him it would be a long shot, but he'd try the DNA blood test for Spinal Bulbar Muscular Atrophy (SBMA aka Kennedy's Disease).  It came back positive.  Terry finally had the correct diagnosis where his symptoms matched.  However, we were told that SBMA is extremely rare (supposedly no more than 50 families worldwide) and that they had no idea how quickly the muscle atrophy would progress.  This was very frustrating.  We had no idea how long Terry was expected to live and to what extent his lifestyle would be limited.

Terry immediately began searching the internet for information.  We were not surprised to find there was no organization supporting SBMA since we were told it was so rare.  Terry collected a few articles posted on the Net and this is when he put up his first Web site in the hopes of helping others, as well as contacting and sharing information with others. Terry's talking to others was a tremendous help to us. To our relief we found others in their 50's and 60's still walking with the use of a cane.  We eventually found out that Kennedy's Disease is not necessarily life threatening (although complications from it can be).  We did learn that life expectancy can be shortened.  It was not easy for me to accept this new addition to our lives.  We talked about taking the Web site a step further by actually forming a non-profit organization, but both of us worked full-time (and I was going to college at night).  There just wasn't time and we did not feel there were enough people to support it.

During the time Terry's personal Web site was up, I mostly remained in the background.  I refused to talk with other spouses or girlfriends.  I could not talk about Terry, SBMA or how I was feeling without starting to cry.  I also did not know how to help others or give counsel when I myself did not know how to handle my own feelings yet. Perhaps if I had talked with them earlier on I would have accepted the situation sooner than I did.

When Terry was first diagnosed, he was concerned that I may want out of our marriage.  I never really thought about that.  We did marry for "better or worse" and of course, I love him.  I told him that if he can be strong, I can be.  I cannot see us sitting around, pitying ourselves for the rest of our lives.  We make a lot of jokes about the situation like how we get really great parking at the mall around Christmas time.  We try to stay positive (although at times we must allow ourselves to express our deepest emotions.)  We try not to ask God, "Why us?"  Instead we ask God to help us accept it and pray for cures or treatments for all those in the world with any illness or disease.

In June of 1999, we went to the Families of SMA Annual Conference in St. Louis.  I did not really want to go.  I did not know what to expect or how my emotions might surface at the conference.  (I had read the FSMA newsletters in which they announce children with SMA Types I or II that have passed away.)  I was concerned I would become extremely emotional at the conference.  However, once there, I realized I was focusing on the negatives and not the positives.  The children had a great time racing around in their wheelchairs and it was helpful to meet other adults in person who faced the same challenges we do.

We made some great friends and the FSMA Conference became the springing board for Terry and I to start a non-profit organization for Kennedy's Disease.  I realized how much an organization was needed for support, research, fundraising and awareness building.  Most of those who live with Kennedy's that we have met (either at the conference or through this Web site) have been misdiagnosed at least 2 times.  Most of those misdiagnosis' were ALS (aka Lou Gehrig's Disease).  (Another neurological disease, but sadly it is fatal.in a short period of time -- but the symptoms are very similar to Kennedy's Disease.)  We met a gentleman who was misdiagnosed with MS for 11 years and had been treated with chemicals for MS for all those years to recently find out its not, its Kennedy's Disease.  No one should have to go through a misdiagnosis.  A simple blood test can diagnose Kennedy's Disease now.  We need to educate Neurologists to perform this blood test before diagnosing ALS.  It should be standard protocol for them before releasing an ALS diagnosis.

There came a point when Terry and I stopped doing anything.  He could not walk for more than a few hundred feet without overdoing it (and experiencing pain the next day) and he fought the idea of using a wheelchair.  We started to just hang out at home.  I hate to say, I was extremely bored and frustrated..  When Terry finally began to use the manual wheelchair, I felt liberated and free!  We were going to the shopping malls again and went to the L.A. County Fair, Disneyland, just plain out and about again!  It felt a bit awkward at first.  I think Terry has done a much better job at dealing with all of this in some ways.

Terry's arms started to weaken about a year after using the manual wheelchair and after a huge fight with the HMO company (and a surprisingly easy negotiation with his employer to help with the cost of a power lift seat) he now has an electric chair.  The electric chair has been great.  I appreciate the fact that the speed of the chair allows Terry to easily keep up with me.  In fact, he whizzes by me and leaves me in his dust.

I have had to take on doing more and more around our property as Terry notices more atrophy and weakness (in his arms now as well.)  I am now more involved in the maintenance of our house, such as painting or mowing the lawn.  When Terry or I cannot do something, we are fortunate to have family or to be able to hire someone to help out.  However, there has not been too many things that I cannot do without Terry's direction.  Its worked out well so far.  I'm now the braun (I call myself the "Mule" and he is the brain!)

There has been much research over the past 10 years, since the start of the KDA's existence.  We have helped fund over $250,000 in small grants (seed money) to test hypothesis that may not have gotten a chance.  We helped fund the SBMA Drosophilia (Fruit Fly) model for testing of drug compounds.  And so much more that you'll find on the KDA's Web site.  We have great hope for a cure or treatment in our life times.  But if not, at least in the meantime, we've been able to help many others and continue to "Reach for the Stars".

Terry and I have our moments.  However, for the most part, we continue to adjust to living with Kennedy's Disease in our lives as it continues to progress.  At this time, there is nothing we can do to slow or stop the progression since there is no treatment for this disease.  We truly appreciate all of those who have taken the time to e-mail or call us to share information.  We also appreciate our friends and family who remain positive forces in our lives.