Hiliary Walklett, Born 1940 - England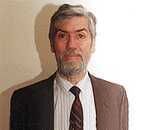 I was diagnosed with Kennedy's in 1994, at the age of 54.

Looking back, I suppose I first noticed symptoms as long ago as 1968, when I was 28 years old. I suffered from terrible cramps, which were believed to be caused at the time, first due to too little salt, then to too much.  At first, these cramps were only in my legs – which is where most people suffer from cramps time to time – but later on, when I was in my mid-thirties, it started affecting all sorts of other muscles.

I was shown how to deal with cramps – by stretching the affected muscle – at first aid classes that I was attending around that time and soon became an expert in getting rid of a cramp as soon as it appeared.  I have found that the best way to get rid of cramp in the neck muscles is to hang by one hand from something high – like the top of the door.  I have drawn a number of odd glances and humorous remarks by doing this, but what the heck – it works and makes me feel better.  If the world takes amusement from it and it lightens the day of my fellow humans, then maybe KS has an occasional benefit to humanity to set against the undoubted miseries of the condition.  (I must point out, here, that in the England we tend to refer to it as Kennedy's Syndrome, rather than Disease – hence KS, not KD, in my script.) If anyone else suffers like this from cramps and would like the benefit of my experience, please get in touch and I will tell you all I know.

In 1976, I had a bad road accident which wrote off the vehicle and came close to writing off me!  From that time on, I suffered from shaking hands and aching knees, both of which I attributed to the accident.  It was only later that I realized that both are symptoms of KS.

In the late 1980s I bought a second-hand cooker from a friend.  It was kept in his basement so he and I started to carry the thing up the stairs to my waiting car.  I had been a professional furniture mover only 8 years earlier, so thought nothing of doing such a thing – I had kept in practice by helping various friends with their house moves in the intervening years.  This time was different.  Half way up the stairs, I felt that I could no longer hold the cooker.  I was at the lower end, so if I let go, 80 or 90 pounds of iron-ware would have fallen on my head.  We lowered it to the step we were on, I took a breath, and we tried again.  I found it extremely difficult to lift the thing up again, but somehow we managed.  I got to the top, pushed it in the back of my car and thought, "I am getting soft now that I no longer do physical work, I must start to work out" (I was a student at this time).

The real crunch came when I was walking in the Howgills with a party of friends.  The Howgills are a particularly pleasant set of hills in the north of England, not far from the Lake District.  They are not difficult or mountainous, but they are steep and strenuous.  Therefore only dedicated walkers go there; indeed, one of there attractions are that they are fairly deserted most of the time, unlike the Lakeland hills, which get to be like Blackpool at times. (Blackpool is like being in Coney Island in America). I am a dedicated walker, and regularly used to walk 25 to 30 miles in a day, with a pack on my back.  However, on this particular day, toward the end of the walk, which was about 22 miles, my legs started to buckle under me as I went down hill.  I was able to reach the base of the hill, much to the amusement of my companions, partly by sliding down on the short grassy slopes, and partly by walking backwards.  (There is a technical, physiological reason why backwards works when forwards doesn't – I won't bore you with it.)  I thought  little more of this, especially as I was able to walk perfectly well when we got to the flat bit that led back home.

However, the same thing happened a few weeks later, whilst out walking with my son in the Lakeland hills.

My elder brother, ten years older than I, had had trouble with walking for a number of years.  We put this down to the fact that he had fallen from the deck of an aircraft carrier into the hangar – about thirty feet – and we thought he had received some spinal injury (which is what the doctors thought.)  Eventually, he was diagnosed as having Motor Neurone Disease (MND over here, ALS in America) and was told he probably had only four or five years to live.  Fourteen years later, the doctors were very annoyed to find that he was still alive, still walking (although not so well) , and showing only a little in the way of classic MND symptoms.  They ran a whole series of tests on him and eventually diagnosed Spino-bulbar Muscular Atrophy, as it was called here at that time, or Kennedy's Syndrome as we now call it.  He immediately contacted me and my two other brothers, explaining the genetic nature of the syndrome.  My eldest brother – 70 then and without daughters, declined to be tested, and shows no symptoms anyway.  Of us other two, only I tested positive.  A classic 50-50 passing of genes from my mother.

I am still working, albeit only three days most weeks.  But it is desk-job anyway.  For the rest of the time, I do quite a lot of teaching to mature students – history, mostly and study skills – at Lancaster University.

I still walk as much as I can as often as I can, which is for up to two miles on two or three days each week. I still do craft work to keep my hands supple – I have found re-caning old chairs is therapeutic and within my capabilities.  I do a little gardening – about half-an-hour at a time is my limit, now, with no digging or lawn-mowing!  I can still stand for about half- to three-quarters-of-an-hour – enough to wash the dishes or to cook a meal.

I am currently about to move house to one where I can fit a stair-lift.  The stairs in my present home, a three-hundred-year-old ex public house, are just not suitable, and a vertical hydraulic lift would spoil the place completely.  Life has been good to me, and I have few complaints.  I miss the long walks, and I miss not being able to make intricate little models, but there are other things in life, which I am learning about.
I have the great benefit of a loving and supportive wife, who helps me unobtrusively without fussing or making me feel that I am a nuisance (well – not any more of a nuisance than I've always been, I guess!)  She lets me set the pace, and rarely suggests that I should have let her do something, but willingly does things if I ask.

We both have had a lot of adjusting to do – I don't ask for help easily, and have had to learn to accept it gracefully as well as gratefully.  She is not naturally patient, and has to bite back her impulse to do things quicker than I would but at the cost of making me feel like a spare part.  We both fail at times, and we both get snappish occasionally.  But most of the time, we have a good relationship and help each other when things don't look too good.  Thanks to what ever powers there be for a good and loving wife.

UPDATE ON NEW YEAR'S DAY 2007

I thought it might be interesting to add to the story above to tell you how I have got on in the past few years

I continue to work for the University.  I retired in 2005, on my 65th birthday but still teach two or three classes a week during term time, plus some week-end work and a bit of teaching during the summer holidays. At the moment, my voice continues to be fairly strong, although on the day after giving three classes in one day I do tend to be a bit hoarse.  However, I do have to deliver my lectures sitting down, now, which I don't really like to do.  My students, bless them, are always understanding and supportive.

Now, in 2007, I no longer walk very much - I can manage about 100 yards, which just about gets me to my local pub and then, after a 'rest' of about an hour-and-a-half, back home again. Anything further than that and I use my electric buggy. I still do minor bits of craft work to keep my hands supple, but I can no longer do anything really fiddly or work for very long.  I have given the last three, unfinished, cane chairs to a local craft workshop which employs and trains people with learning difficulties. At least they've gone to where they will be used to good purpose.