Claus-Peter Czaya, Born 1951 - Germany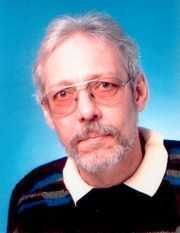 I have agreed to post my story to this website because I would like to try to help other people who have been recently diagnosed with SBMA.  I want to boost their courage and to try to help them not to be afraid of the future.

At first, I have decided to go into a little bit more detail, which I feel to be important, in order not only to say hey, show the pictures and that's it.  Those who are not interested in these details should skip these sections.

As SBMA is a hereditary disease, I'd like to start with my parents:

My father:

* had 1 brother (no children), 1 sister (3 daughters), three children (he was married twice) (1. marriage 1 daughter (2 sons, 1 daughter), 2. marriage with my mother 1 daughter (2 daughters, 1 son) + 1 son (oh, that's me – who else!))

My mother (SBMA came from her side):

* had one sister (5 children, 3 sons + 2 daughters)
* she died at the age of 65 caused by a cancer operation
* no SBMA known by her ancestors
* no SBMA known for other living relatives

Now up to me:

"Healthy" Years (1951-1990)

I was born in 1951 and spent quite a normal childhood.  From the medical point of view, there we only a few points worth mentioning:  I had "high" testicles laying in the abdominal cavity – returned to normal when I was 12 (supported by hormonal therapy and beginning puberty).  At that time I was first confronted with the possibility never to have real children of my own.  In sports I was rather an average boy, my strength's were athletics, underwater swimming, and table tennis.  My weakness was apparatus gymnastics.  In addition to swimming, I liked diving very much (~ 40 m without aids like a snorkel, today still more than 30 m without training), but I never could dive from the board caused by coordination problems, so I had to start the underwater swimming in the swimming pool.  Other hobbies were chess and correspondence chess and singing with a folk-group (it is said that I had an extraordinary bass-baritone "woofer" which got rusty in the meantime).  I finished my lessons with a diploma in physics in 1976 and got married to my wife Gabriele in 1977 (at that time still a student, now working as a primary-school teacher).

In 1977 I started working in development with a big German company for electronics and automotive-equipment. I'm still working with this company (on average 50 hours a week including business).  This job has killed most of my hobbies, it remains only computers and photography.

Some month's after we got married, I received a diagnosis of infertility.  Hormonal therapies that followed couldn't change it.  We had previously agreed (before our marriage) on adopting children, if having our own children wouldn't be possible.  We decided to go this way to become a family with children.  So in 1981 we adopted our daughter and in 1985 our son – as babies directly from the hospital.  In 1982 we bought/built a terraced house, in which we are still living together with our son.  We built up our garden (beds, edged with cross-ties out of wood, terrace, supporting walls, bases out of concrete) on our own.

The years until 1989 went off like any average family – no special incidents. My hair became thin, children took nearly all of the rest of our leisure time.

My stature stayed nearly unchanged, 190 cm, ~ 82 kg, only, my eyes grew weaker.

In 1990 I started to go jogging regularly and felt as fit and strong as it is possible for 40 years old.


First Symptoms (1991-1994)

Within the following four years some (smaller) disruptions happened. For example:

* On holidays in Tunisia (Summer 1991) my right fibula – directly above the ankle - broke playing tennis. I got a sudden weakness in my legs, went over my ankle and sat down directly on my twisted foot. I could never Jog again without problems and I gave it up.
* Another day I fell while dancing and couldn't get up for minutes. Fifteen minutes later everything was o. k. again.
* At Munich airport I suddenly couldn't carry my luggage up the stairs and needed extra help. The escalator was broken and I was in hurry to get the plane.
* Walking down from a top station in the Alps I suddenly fell down – past 15 minutes of an one-hour way – also couldn't get up for many minutes. It was very hard for me and my wife to go down the rest of the way.

All these events were short muscle relaxation (- as well as occasional spasms in the legs, fingers and the tongue and tremor in the hands), which I didn't take seriously and laid the blame on overwork and lack of fitness.

The true diagnosis of the disease happened by a pure chance. From 1987 to 1994 I went to the blood transfusion service twice a year. During mid-1994 I got a letter from the blood bank, informing me that deviations in my blood count pointing to an unbalanced liver function. The following checkup by my internist showed higher liver test values, but in an uncritical range. Because of this I decided to go to a checkup regularly each year.


Medical Examinations and Diagnosis (1995-1996)

The next checkup in 1995 by my internist – also caused by a sudden weight reduction of 3,5 kg in 3 months without any reason and increasing spasms and tremors (sometimes I couldn't drink a cup of coffee if only using one hand) – showed some alarming points:

* Gynecomastia in a mild form
* Muscle weakness in legs and arms
* Strongly increased CPK-values
* Little imbalance.

Consequently I was transferred to a neurologist with the suspicion of having a nerve or muscle disease. The results of his examinations and tests were:

* Blood: CPK 820, GOT 29 U/l, GPT 32 U/l, LDH 252 U/l, gamma GT and CKMB normal
* nerves and muscles: beginning atrophy of my tongue, higher in my legs and hands

The neurologist decided to admit me to the neurological section of the university hospital of Hanover, to find out the right diagnosis. This happened just at that time when I had to start a 10 day business-trip to Japan and Hong Kong.

During my absence my wife arranged the admission to the hospital together with the neurologist (the date had to be directly after my return) and got the referral from the neurologist. Interested in which suspicion the doctor had, she opened the letter and read ALS – I still was in Far East and didn't hear anything about this. She at once went to our library in the city and learnt what ALS would mean for the rest of our lives. They had already asked if it was possible for her to leave her job, to be able assist me and to care for me for the little remaining time I had (maybe three years?). It may sound a little bit theatrical, but my wife came to her limits within the few following weeks, as she didn't mention anything about this to me before my discharge out of the hospital.

What happened the 2 weeks in the hospital?

Repetition of all the tests already done by the neurologist and additionally more intensive blood tests, pulmonary function test (o.k.), electromyography, cerebrospinal fluid test and waiting, waiting and waiting again.

After 2 weeks I was discharged, still missing the results of a genome test, which had to clarify the diagnosis. Because of the blood test values, the doctors didn't believe it was ALS and they mentioned suspicions of SBMA. Asked what this would mean for me and my life, they said it would be similar to an ALS patient. At home again, I looked on the internet and took as much information as possible which gave me a little "all-clear" – compared with ALS

My blood specimen was lost and 3 months later I had to go to the hospital to deliver a new specimen for the DANN-Test again.

By the middle of July, that was 5 months after my time in the hospital, the results finally came: 42 ± 2 repeat-units of the CAG-triplet-repeat-blocks in the Exon A of the Androgenreceptor-Genom.

Now after half a year, the strains released in our daily routine.

Getting Status as a Handicap Person (1996-1997)

What was to be done now?

At first I informed my bosses and made an application for being accepted as handicapped person concerning the German law

The reason was to get a handicap card ("Schwerbehindertenausweis"). It gives you better protection against wrongful dismissal of employment on one side and some tax and other reductions on the other side. It only allowed if the handicap is 50 percent or more. My neurologist expected just these 50 percent as a minimum.

In Germany the "Versorgungsamt" is responsible for these applications. On October 30, 1996, I entered the petition with a lot of explanations concerning my disease and my state of health, names and addresses of my doctors for possible queries and some print-outs from the internet. On January 29, 1997, I received the reply of only 40 percent – no-one had contact with my doctors nor me. I protested on February 21, 1997 and they changed it to over 60 percent – without any contact or comment.

These problems remind me of Terry Waite's fight with the HMO's for a wheelchair!


Breathing and Other Problems

What about smoking and problems with my lungs or difficulties in breathing?

I did smoke cigarettes from the age of 18 to 25 very strongly and stopped smoking one day together with Gabi. It happened at our engagement party when I didn't smoke for some hours. Out of this it grew a competition between Gabi and me, not to start smoking again. Gabi became the winner, as she didn't smoke any more since that date. I had a relapse for longer than half a year on the day of my onset and medical examinations but stopped again in July 1996, when I got the diagnosis of SBMA. Therefore my difficulties in breathing, which fortunately I do have only intermittently (sometime with a gap of months inbetween)- can not be caused by smoking.

What happens when I get these problems? It's mostly caused by swallowing the wrong way. For this, only a little crumb or a little drop which goes the wrong way causes it.  This leads to a sudden closure of my trachea and neither inhaling nor exhaling is possible.  The first time when this happened I felt panicked, which only causes additional problems.  This condition takes a few minutes and doesn't regulate by itself.  Trying to inhale in this situation makes a terrible sound as if somebody pressed air through a small slit with high power.  It's very important for me to keep calm.  Fresh air, external pressure against the thorax and by this exhaling the rest of the air in the thorax helps to bring back normal respiration.  Frankly I do not yet have a magic recipe to solve this situation.  As my lungs are strong and have a very large volume I've always stayed fully conscious - although such attacks can last over nearly fifteen minutes (as Gabi says – It feels like it takes ages).  Thorax specialists couldn't find abnormal deviations and they also couldn't help me.  Perhaps one of the readers of my story can help me.  The most important is always to keep cool.

"Sports":  Since my release out of the hospital, I try to go on a trim bicycle and I work with a physiotherapist twice a week.  That's to support the muscles still working and so to delay the lack of muscle-power.

Other health problems I have is my diathesis.  Two years ago (in 98) I had to be operated on for varicose veins on my right leg – this leg is my "problem child".   Last year in December the same with an inguinal hernia – also on the right side.  A supporting tissue had to be "implanted", to guarantee needed stability.


Actual Condition (August 2000)

Now I would like to say some words about my actual condition.

I do have a few bogy opponents: climbing stairs, raising from the floor, grasping tiny objects, writing letters by hand, and eating fluid soups.

I can hardly climb stairs without using the handrail and never if I have bags or any other luggage. That's not only a point of force but also of stability. Also if I go downstairs, I need the handrails for stability and to slow me down. This point has changed most within the last four years. We live in a terraced house with four floors from the cellar to my study – there you can't avoid stairs. In our company we have elevators to get to my desk. On business trips I select the hotels very carefully and try to avoid changing trains often (otherwise I use my car which has a automatic gear system since 2 years ago).

Getting up when I fall down or having to work sitting on the floor doesn't succeed with elegance. It looks bad. I need a long time and sometimes it makes me feel helpless – especially if I'm with other people.

Standing or walking on my tiptoes is a thing of the past. These movements are no longer possible as well as running. Walking with a stable velocity is no big deal, walking in a crowd a big one.

The fine-motor skills in my hands has suffered clearly. Writing letters leads to an illegible handwriting after half a page and cramps in the fingers. Then I sometimes need the support of my left hand to open the right one and remove the pencil. This is quite similar when using screwdrivers, while gardening, etc. It works quite good only for some few minutes. For writing I normally use the computer and only my fingers – it works quick enough for my needs.

The success in eating fluid soup depends on my daily physical condition. Mostly it's no big problem but sometimes a very wet venture. Drinking out of cups or glasses often needs the stability of the other hand.


Life with SBMA Remains Worth Living

What do we like to do? Well, car driving is no problem for me.  We prefer the German isles (i.e., Helgoland) and the Alps in Bavaria. My new motto (like Churchill) is "no sport" but we like walking as much as possible.  Besides we like reading, shopping and having a good meal.  We also like weekend trips to other German cities combined with concerts and musicals.  At home we have a subscription ticket to the local theater.

And - horror – it has finished quicker than expected.  Stop!  Now you know quite more about me than I myself.   I'll try to keep you updated.